DAY 1 : COCHIN TO MUNNAR 130KM- 6HRS:-
Munnar area paradise situated at the confluence of three mountain streams and perched 1600 m above sea level. On the way to Hotel will visit
Cheeyappara water falls (If time permits) and after check in formalities If time permits we will proceed to visit Echo Point, Kundala Lake, Madupetty
Dam and Tea Museum. In the evening back to the hotel and overnight stay at Munnar Hotel.
DAY 2 : MUNNAR LOCAL SIGHTSEEING:-
After Breakfast today being the day to explore more in Munnar, Mattupetty Dam, Echo Point, Eravikulam National Park etc. (Closed during FEB & MAR
every year due to breeding period) Overnight stay at Munnar hotel.
DAY 3 : MUNNAR TO THEKKADY 90KM-3HRS:-
Thekkady is famous for its tea, coffee and pepper plantations. It has unending plantation gardens and one can literally smell the aroma of spices in the air.A
visit to India's best wildlife sanctuaries will give you an experience that you won't forget for the rest of your lives. Make sure you take a cruise
along the Periyar River for that mind-blowing experience.Overnight stay Periyar Wild Life Sanctuary Boat Timings: 07:00; 09:30; 11:30; 14:00; 16:00;
hrs. Note: No advance ticket booking for boating at Thekkady; the guest should take tickets directly on arrival. Kindly cross check the boat timings
once you reach; since only a few boats are available for cruise at Thekkady.
THEKKADY – KUMARAKOM\ALLEPPEY 130KM -4HRS:-
In the morning proceed to Kumarakom after breakfast. Thevillage of Kumarakom is a cluster of little islands on the Vembanad Lake, and this small water
world is part of the Kuttanad region. The bird sanctuary here, which is spread across 14 acres, is a favourite haunt of migratory birds and a ornithologist's
paradise. One can see a lot of rubber plantations. A cruise onb the Vembanad Lake, gently rocked by the waves rippling to the rhythm of the swaying coconut
palms on the distant banks could be truly exhilarating.Stay in the backwater resort and enjoy your day in swimming or a massage that would do wonders on
your body. The splash of water slapping softly on the banks provides soothing background music. Visit Kumarakom Bird Sanctuary.The breathtaking view of the
lake during the dawn and dusk and the glimpse of theformation of birds flaping in and out of the bird sanctuary can be seen from any spot of the island.
KUMARAKOM\ALLEPPEY – MARARI 30KM-1HRS:-
Mararikulam - is one of the picturesque fishing villages that dot the lovely coast line of Kerala. This private, shallow beach is fringed with unending
lines of coconut palms. Rest of the day at leisure for own activities and enjoy the facilities of the Resort. Day at leisure for own activities and enjoy the
facilities of the Resort like Ayurvedic Treatments, Swimming, etc. Overnight at Beach Resort.
MARARI TO COCHIN AIRPORT 50KM-2HRS:-
Drop At: Cochin Airport
Deluxe:-
Munnar -Misty Mountain Resort:-
Poised at the gateway to Munnar, Misty Mountain Resort offers you scintillating views of the mountain ranges, tea gardens and even the distant Chengulam lake. True to its name by sundown the resort is enveloped in veils of mist, for an exquisite mountain side holiday experience.
Thekkady-Coffee Routes Thekkady:-
Situated on the crown of a knoll, Coffee Routes is serene nature getaway that draws inspiration from the dictum that less is more and that nature must be allowed to thrive unfettered.The predominant theme is that of coffee with the names of the rooms and facilities named after different species of coffee plants and varieties of coffee. A tarmac road winds up the slope. An open to the air lobby is situated beside the road. Inside the seats are hewn from rock found in the area. Above the lobby is the resorts multi cuisine restaurant with a splendid view of the surrounding vegetation, a plain stretching up to the mountains in the distance.
Kumarakom- Soma Kerala Palace:-
Soma Kerala Palace different from other holiday resorts is its ancient architecture which is recreated using master pieces, about 250 years old, disbanded from their actual site. Classical art forms such as Koodiyattom,Thulall and Padayani, performed by veterans of the art, form a part of the Kalaa Sandhya (Cultural Evening) which was once a means of entertainment for the royalty.The backdrop of the lilting backwaters and the swaying palms makes the setting picture perfect. It is one place where you will find all your worries ebbing away and your spirits elevating. So take a break from the monotony of daily life to experience Kerala the way it is.
Marari-Abad Turtle Beach Resort Marari:-
Spread across an area of 13 acres of land, Turtle Beach Resort is ideally located at Mararikulam, a fishing village about 30 km from kochi. The resort overlook the white sandy Marari Beach and has a rivulet flowing on one side. Stretching across the expansive area are 16 cottage comprising 29 beach cottages and Villas. The rooms are spacious, Air-conditioned with en-suite toilets and individual patios. Room are equipped with T.V, telephone, Fridge, Tea/Coffee marker and individual safe deposit locker.

Premium:-
Munnar-Rivulet Resort:-
Munnar's new resort is one that gives back to Munnar, much more than what it took up to construct. Rivulet is situated not too high, not too low, just about at the right level. This makes the stay a far more fascinating experience with the sun warming your back while your face is graced with cool breeze.Calling the resort 'eco-friendly' will be an understatement. With more than 20 acres of lush, fertile land, Rivulet's built up area for its cottages is less than a quarter. So be it a moment in the evening where you sulk into the comforts of nature with a book in hand and coffee on the table or a physically exhilarating morning when you paddle down rivers and climb up hills, Rivulet is the place to be at.
And that's because Rivulet is not just a resort. It is a concept.
Thekkady-Forest Canopy:-
Our lives are a mix of sorrows and happiness but when it comes to forests you will only see joy and energy. Energy that converts your grief and tiredness to joy and great relaxation! Forest Canopy is one of its kind Luxury Resorts in Thekkady that will let you blend into the forest beauty and help you leave behind all hazards of life for the time you are here. Be ready to make a visit to Forest Canopy – The Gateway to Thekkady this holiday season and experience a stay in the most scenically placed Premium Resort that drive you crazy.
You will get to enjoy a rainforest like environment in Forest Canopy and the lush greenery around will make you feel fresh and rejuvenated. Leave behind the toxic city life and immerse in this hill life hotel like stay for your next holiday. Situated near to the Kottayam – Kumily road, it is too easy to reach this place no matter where are you coming from. Let's give a break to these beautiful words now, come experience a heaven like experience in this exciting accommodation in Thekkady.
Allely-Premium House Boart:-
Premium Houseboats are the most luxurious house boats in our catalogue. With its plush interiors, aesthetically done up with hi-tech designs, huge lounge and spacious rooms, a cruise in the luxury houseboat ensures a cozy getaway. The lounge and bedrooms usually have a rich wooden ceiling that adds up to its chic ambience fitted with hi-tech amenities like shower, Jacuzzi, Class covered Living rooms,& Centralized Air-conditions Furnished with the choicest linen sheets and luxuriant King Size beds, these houseboats could well be termed as the last words in better comfort. We do operate these house boats in Alleppey and in Kumarakom only. These boats are used for Honeymooners, Family marriage get-togethers, Business conferences, Incentive Planning's and corporate meetings.
Luxury:-
Munnar-Chandy's Windy Woods:-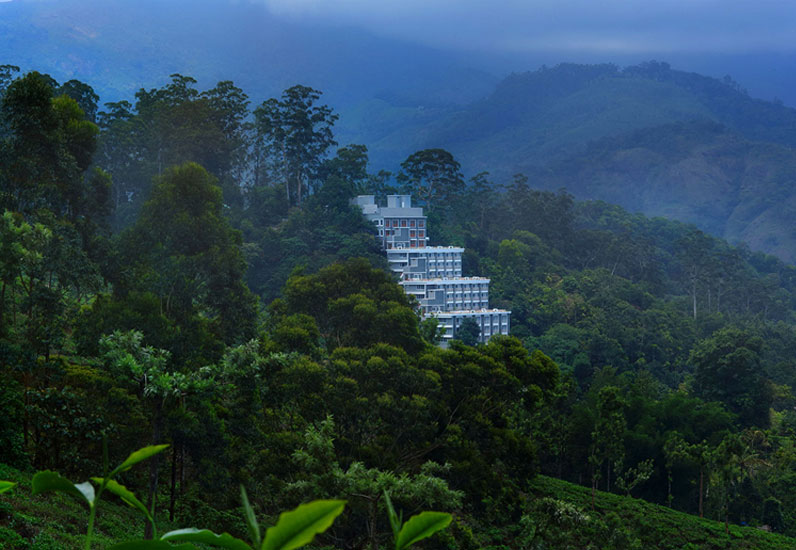 Breathtaking vistas, mountain tops undulating into the distance, floating fluffy clouds set against a vivid blue summer sky with the distant promise of rain and a profound silence punctuated by the music of birds. Nestled in a grove of magnificent silver oak trees and set along the slope of a hill, Windy Woods is an epitome of luxury and fine living.
Thekkady-Spice village:-
A tribal village set in a spice garden in the cool highlands of Periyar in Thekkady.
Spice Village is modelled on the dwellings of the native Manan tribe of this region and exudes the raw spirit of unblemished nature. This CGH Earth experience is a seamless extension of the verdant landscape around and celebrates all things spice : be it our unique spice enriched culinary offerings or the spice tours that help bring our guests closer to the land and its people.
Allely-Luxury House Boat:-
Our Luxury Kerala Houseboats are the most luxurious boats in our fleet. We took the 800 houseboats of Kerala, created a set of criteria and checked the boats against the criteria... and at the end of the process we have listed 11-15 houseboats or Kettuvallom as we call them in Kerala as genuine "luxury". Here they are: take a browse through and see what takes your fancy and then submit an enquiry to us your dates and let's see what we can do. If we cannot accommodate you on the boat of your choice, we will tell you and then suggest other boats that are available and we will provide links so that you can inspect them for yourself.
Marari-The Marari Beach:-
The sea-side village experience set on 30 acres with coconut groves, lily ponds, fruit trees and a large organic farm.
Our seaside resort, Marari beach in Mararikulam, is a tribute to the fisherfolk of this region who populate it's spirit in obvious and subtle ways. Our guest cottages echo their dwellings in style and character while our cuisine reflects the culinary subtleties of these people whose sensibilities and culture have been influenced by the charms and challenges of the oceans.